Noticeboard
Sunday Services at St Mary's – an update on arrangements
We will continue to use our booking system for Sunday Services to enable staggered seating within pews and some allocated socially distanced seating areas. Stewards will be available to help direct you to your seats.
If you are presenting any symptoms of Coronavirus, please don't attend the service but follow government advice on testing and isolation.
If possible, please perform a lateral flow test before attending the service.
Please wear a mask for moving around in the church and when singing.
Please bring your own bibles.
Communion will continued be administered in one kind only with no sharing of the common cup.
A full Risk Assessment is available from the Church Office.
St Mary's AV Faculty Application
At St Mary's we have seen the benefits of using cameras, monitors and tech equipment to stream our Sunday Services. We have now applied to the diocese for permission to install this equipment more permanently and effectively in our church building. All the documents and details relating to the changes involved are available for viewing at St Mary's Church or at the Church Office.
If you wish to object to any of the works or proposals, then you should send a letter or email to the Diocesan Registrar to arrive no later than 3/8/21.
Said Communion
We will not be holding Said Communion Services during the holiday season.
United Breaks Out, 29th July – 3rd August
New Wine at St Mary's. Come and watch the evening celebrations with your church family.
Thurs 29th July, Mon 2nd & Tues 3rd Aug 6.30pm for drinks, cake and biscuits
Evening Celebration 7 – 8.30pm
Fri 30th July & Sun 1st Aug
5.45pm for Church Family BBQ
Evening Celebration 7 – 8.30pm
Sat 31st July
5.45pm for Church Family Picnic (bring your own) Evening Celebration 7 – 8.30pm
Please sign up to let us know which evenings you can attend or contact the Church Office to let us know if you can help out.
Pray for Five cards
(Available from the Church Office)
This card will easily fit inside your wallet, purse or book. Choose five people you would regularly like to pray for and write their names down onto a list. If you're not sure who to pray for, ask God to guide you as you choose. Use this card as a daily reminder to pray for them.
Cards available from the Church Office.
Church Weekend Away – NEW DATE!
Friday 20th – Sunday 22nd May 2022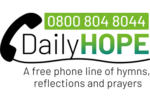 Sleep Well with the Daily Hope Phone Line
Last year the national church launched a freephone, 24 hour, telephone service called Daily Hope, where people can ring in for daily encouragement, prayers, music and exercise. They have now added 'sleep well with daily hope', it is a series of gentle and relaxing reflections to help you sleep.