Noticeboard
Livestreaming our Services – we will be livestreaming our 10am service again this Sunday. Church family will receive an email with a link to our YouTube channel to view the service at St Mary's. Our grateful thanks go to Andy Callin and the tech team for all the time and effort they have put into making this work. We very much hope you enjoy joining our church services via live stream and ask that you bear with us as we continue to improve and develop the use of this technology.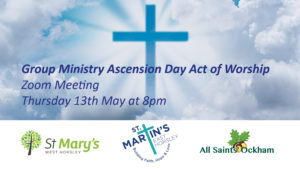 Group Ministry Ascension Day Act of Worship
Zoom Meeting – Thursday 13th May at 8pm.
St Mary's Church family will have received a Zoom link for this service in the Livestream and Notices email that is sent out on Saturday. Visitors, please contact the Church Office to request the Zoom link.
Heart and Soul Evening on Zoom – June 10th, 7.45pm for 8pm talk
We have arranged for Suzette Jones to come and speak to the Heart and Soul group about Modern Day Slavery and trafficking. The observant amongst you may recall the name – Suzette joined us a while ago at Quaich and spoke to the H&S group on the topic of  Mindfulness.
Church Weekend Away – this is being postponed until Spring 2022. More details to come.
Buildings Project – the Buildings Project team have plans to get in touch with all members of our church community to collect ideas and keep everyone up to date with what is happening.
New email address for Prayer Requests
If you would like to request prayer from our Prayer Team, please email prayer@stmaryswesthorsley.co.uk
All requests are treated with confidentiality.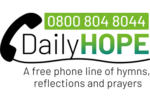 Sleep Well with the Daily Hope Phone Line
Last year the national church launched a freephone, 24 hour, telephone service called Daily Hope, where people can ring in for daily encouragement, prayers, music and exercise. They have now added 'sleep well with daily hope', it is a series of gentle and relaxing reflections to help you sleep.