Noticeboard
Alpha Course
starting Wednesday 6th October
Alpha is an opportunity to explore the Christian faith in a friendly environment. The Alpha course this autumn will begin with a Zoom 'taster evening' so start inviting friends and family.
CLICK HERE to sign up for Alpha
or contact the Church Office
for more information
Monthly Prayer Meeting
Thursday, 23rd September
8:00pm – 9:00pm
The Wheelhouse, East Lane
Whole Church Harvest Service at St Mary's, Sunday 3rd October at 10am
Everyone is welcome and there will be activities provided for children during the service. Our harvest food donations this year will be going to the Salvation Army in Guildford. Here is a list of the items that are most needed at present:
| | |
| --- | --- |
| Cereal bars | Hot chocolate |
| Small cartons of juice | Toilet rolls |
| Pot noodles | Shower gel |
| packets of instant mash | Deodorant |
| Long life milk | Definitely no baked beans please |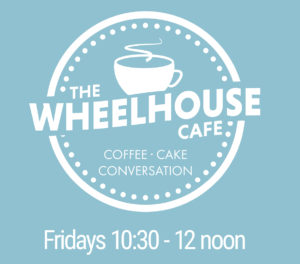 Wheelhouse Cafe Opens Again
from Friday 10th September
Meet with your neighbours and enjoy complimentary tea, coffee, cake and conversation.
All Welcome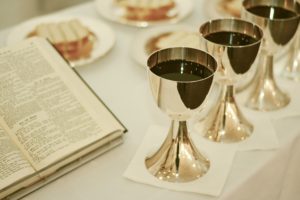 Said Communion Service
at St Mary's Church
Tuesdays at 11am
Thursday 7th October
7.30 – 9pm at the Wheelhouse
An evening with Bekah Legg, talking to us about Restored, 'changing the story for survivors of abuse'. Restored is an organisation changing the story for women caught in the cycle of abuse by equipping the Church to make a difference.
Business Breakfast with the Archbishop of Canterbury
The Yvonne Arnaud Theatre on Monday 27 September at 8am
You are warmly invited to hear the Archbishop of Canterbury, the Most Revd Justin Welby, speak and take questions on 'Ethical Leadership and Business Success', drawing upon his prior experience as a senior executive. He will be exploring how to build a reputation as a business of integrity, what corporate social responsibility means in practice and how to approach the difficult moral judgments and dilemmas which are sometimes part of business life. REGISTER HERE
Big Questions with the Archbishop of Canterbury
St John's School, Leatherhead
Saturday 25th Sept 2pm
We have a wonderful opportunity to bring family and friends to put questions about life and faith to Archbishop Justin. Places are free but need to be booked in advance at www.BigQuestions-Leatherhead.eventbrite.co.uk
Pray for Five cards
(Available from the Church Office)
This card will easily fit inside your wallet, purse or book. Choose five people you would regularly like to pray for and write their names down onto a list. If you're not sure who to pray for, ask God to guide you as you choose. Use this card as a daily reminder to pray for them.
Cards available from the Church Office.
Church Weekend Away – NEW DATE!
Friday 20th – Sunday 22nd May 2022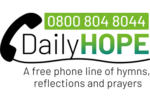 Sleep Well with the Daily Hope Phone Line
Last year the national church launched a freephone, 24 hour, telephone service called Daily Hope, where people can ring in for daily encouragement, prayers, music and exercise. They have now added 'sleep well with daily hope', it is a series of gentle and relaxing reflections to help you sleep.